From our partners at The Agonist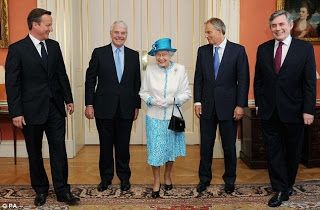 Was there a paedophile ring in No 10? MP Tom Watson demands probe
Martin Hickman, The Independent, October 25

A powerful paedophile network may have operated in Britain protected by its connections to Parliament and Downing Street, a senior Labour politician suggested yesterday.
Speaking from the back benches of the House of Commons, Tom Watson, the deputy chairman of the Labour Party, called on the Metropolitan Police to reopen a closed criminal inquiry into paedophilia.
Well, then, how about that.  Which PM could it be.  The initial guess (not mine) was PM Ted Heath.  But Watson indicated that an open file concerning the case of one Peter Righton had key evidence that the police never followed.  He asked that the police review the case.
Remarkably, PM David Cameron agreed that the case in question will be reviewed.  He expanded his comments to the deviant television kiddie show host (and friend of royalty and the UK elite) Jimmy Savile:   "These allegations do leave many institutions – perhaps particularly the BBC – with serious questions to answer – I think above all the question, 'How did he get away with this for so long?'."
The Independent speculates the Prime Minister associated with the prostitution ring at N. 10 Downing Street was none other than the overrated Margaret Thatcher.
This looks like a staged event where both major parties distance themselves from the coming storm which, I suspect, is well known to both of them.
Michael Collins